These 3 Foods Throw Off Your Gut Flora
Video Reveals the One and Only All-Natural Food
That Does the Opposite…
Introducing…
PERFECT PRESS
CORIANDER OIL
Plus, We'd Like to Give You
3 FREE GIFTS for Taking Action Today…
We love rewarding our customers for taking action. Plus, we want to make sure you have everything you need to get the best results possible. That's why we'd like to give you several eBook bonuses for instant .pdf download when you order today.
Bonus #1: Top 5 Health
Boosting Supplements
We've got 5 supplements that round out a holistic personal health care plan to give you natural and alternative ways to combat illness and boost your health — without expensive drugs.
Bonus #2: Perfect Press Coriander Oil
Owner's Handbook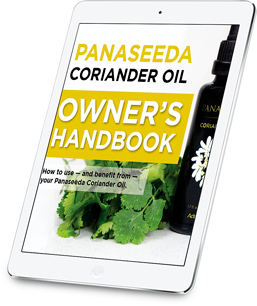 When you start using Perfect Press Coriander Oil, we want you to have everything you need to get the best results possible. That's why we've put together this coriander owner's handbook which will reveal…
coriander oil pro tips
answers to some of the most frequently asked coriander questions
coriander oil success stories from customers just like you
Bonus #3: Shake It Up Baby!
A Smoothie for Every Season
Whether you're already a serious smoothie superstar or you're just looking to get a bit of that good living you've been hearing about, this is the book for you.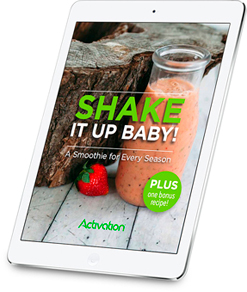 smoothies don't always have to be about fruit
great ways to add more healthy ingredients to your day using Perfect Press Oils
5 delicious, fast and healthy recipes for every season (including a hearty soup)
replace your breakfast, another meal or even a sugary dessert
Make Your Selection Below:
The More You Buy, the More You Save
ONE-TIME PURCHASE
1 Bottle

One-Time Offer
New Low Price
Today: $29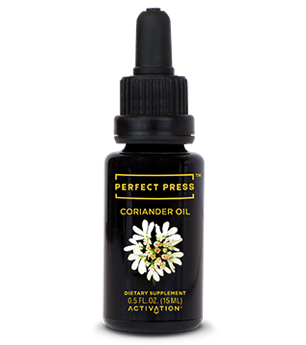 MOST POPULAR
3 Bottles
Save 10%
One-Time Offer
Was $87
Today: $79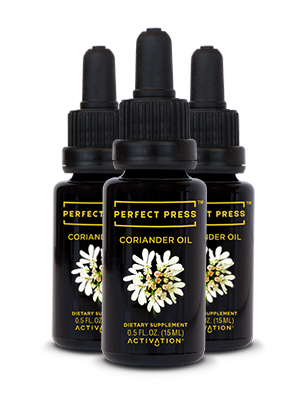 BEST VALUE
6 Bottles
Save 20%
One-Time Offer
Was $174
Today: $139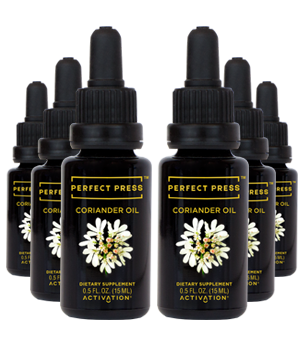 We accept checks and all major credit cards
It has helped my [digestion] tremendously, any stomach problems have been reduced; If am not feeling 100% from something I take it. It relieves nausea and other things related to it; I have it in my toothpaste along with coconut oil and baking soda and tea tree; it has helped with my migraines, although it is not "known" for that.
I have a few of your products and I love the coriander oil I started taking it for energy and stamina which I find help me a lot. I also suffer from grinding teeth when I sleep which can cause pain in the morning and I swish the oil in my mouth for a few mins and the pain goes away.
I have digestive problems that result in abdominal pain after every meal. After the first day, I started feeling relief enough so that I knew this product was already working on my digestive problems. By the next day I was able to eat and not have to run to the bathroom. I also didn't have to lay down in order to get some relief from the abdominal pain. I'm amazed that this worked so quickly. I just wish my doctor would have told me about this product especially this brand. This product is 100% organic and vegan. It comes in a dark miron glass bottle, which protects this product. I can't wait to get my daughters on this product as we all suffer from digestive issues. Much thanks for introducing me to this great product.
Frequently Asked Questions
1. What are the main benefits of coriander?
Coriander has many benefits and uses.
Here are just a few:
It's great for digestion
It's a source of healthy fats
It supports organ health to help flush out toxins
It contains powerful natural antioxidants
It regulates menstruation
It helps with acne & other skin issues
It has natural bacteria-balancing properties
It helps with managing worry/stress
It helps to balance blood sugar levels
It supports hair growth.
2. Why is your coriander oil so special?
Perfect Press Coriander Oil is one of the only RAW coriander seed oils available in the world. Perfectly Pressed™ from thousands of organic coriander seeds, each drop of oil is extracted without the use of heat, meaning that there is absolutely no damage to its nutritional properties.
There are a few other companies out there making coriander oil, but they almost all use heat or steam extraction or inferior pressing processes.
Our oil is also made from superior seeds that contain more antibacterial agents, making our oil a more potent way to fight off bad bacteria.
3. How much should I take?
Each bottle comes with a dropper attached to the lid. Take half dropper, under the tongue, with some food or in a drink/smoothie each day. If taken in this way, one bottle will last roughly 30 days.
Remember, this is a powerful oil and everyone is different. We always recommend trying a small amount to see how your body reacts first.
4. What does it taste like?
Coriander oil has a strong, somewhat floral flavor. Many people absolutely LOVE the taste, though some find it soapy.
If you love the taste, take a half dropper straight under your tongue. If you aren't a fan, add it to some water and take it as a shot.
You can also put coriander on your skin. It's great for blemishes, pimples and other skin issues (always spot test first to see how your skin reacts).
5. Can I cook with it?
We don't recommend cooking with coriander oil as it is a raw seed oil and the heat may damage some of its nutritional components. That being said, it's a free country!
What thousands of customers and a lot of us here at Activation love to do is add coriander oil to food after it's been cooked. You can also add it to a smoothie, some juice or a salad — anything not too hot! Just go easy as the flavor is strong. Start with just a drop or two, you can always add more.
6. What if I don't like Perfect Press Coriander Oil?
While most people LOVE Perfect Press Coriander Oil for its digestive benefits, if you don't — that's okay. As always you are completely covered by our 60 day money back guarantee.
Either you love the product or we'll refund you the price of the bottle.
The Activation Products Inc.
60-DAY MONEY BACK GUARANTEE
---
We want you to be 100% satisfied or you get your money back.
No questions asked. It's really that simple.
We're giving you 60 days to test-drive our products and customer service to prove it! Our customer loyalty team is here for you with all of the product knowledge and information you could ask for.
If there is anything we can do, please call us at1-866-271-7595 (Monday through Friday, 9am to 5pm EST) and we will ensure that you are taken care of immediately.