Select your package below
The more you buy, the more you save
ONE-TIME PURCHASE
1 Bottle$49/bottleRetail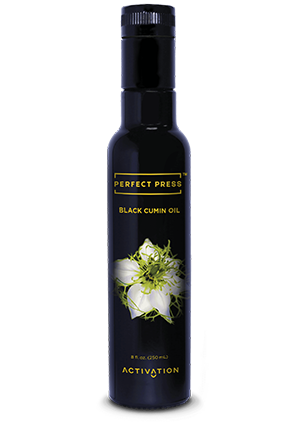 add to cart
MOST POPULAR
3 Bottles$132.30 ($44.10/bottle)Save 10%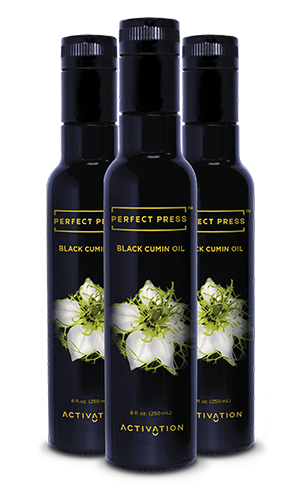 add to cart
BEST VALUE
6 Bottles$235.20 ($39.20/bottle)Save 15%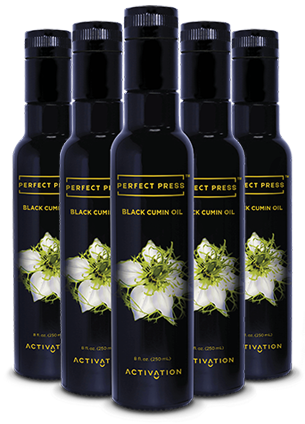 add to cart
Black cumin seed oil has a long history of use as a natural health and beauty remedy. For thousands of years, across cultures it has been used to support the immune system, beautify skin, add shine to hair and maintain healthy weight. It contains essential fatty acids, unique volatile compounds, phytosterols and vitamins that are beneficial for total body health.
Every bottle contains the oil of thousands of Perfectly Pressed® organic seeds. Our special pressing process ensures that there is no damage to the oil. The finished product is stored in UV-protective Miron glass bottles to maintain quality over time. Zero damage equals zero rancidity.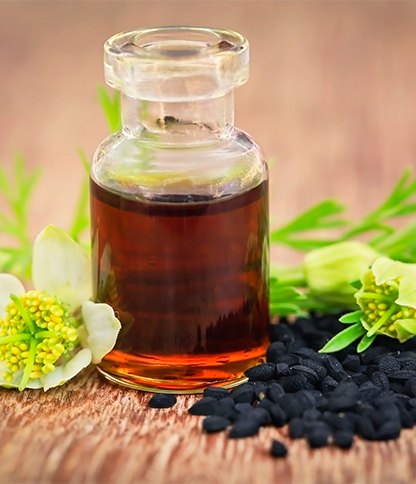 Experience Organic Black Cumin Oil
Plants produce seeds that hold all of the nutrition needed to support new plant growth. They are packed with life-giving nutrients, all wrapped up in a neat and tiny protective shell.
For thousands of years, man has used seeds for culinary and medicinal purposes, enjoying their rich and distinctive flavors and health-promoting properties
While you can always consume seeds as part of your daily diet, enjoying seed oil is a great way to capitalize on concentrated and easily absorbed nutrients, especially fatty acids and volatile compounds. It's like the nutritional punch that you get when you juice a load of fresh veggies and fruits. Your body receives a rush of nutrition that can heal and revitalize your body at the cellular level.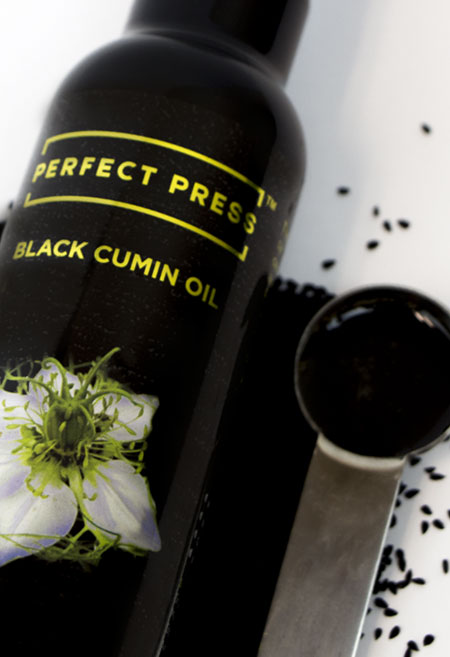 Discover Revolutionary Perfect Press® Technology
This proprietary pressing method itself is so delicate, so precise, it ensures that the molecular structure of our seed oils is never disrupted or damaged. Here's a glimpse of what it means to call an oil Perfectly Pressed.
1. Sourcing the seeds.
Top quality seed oil can only be pressed from top quality seeds. We carefully select our seeds from around the world using 38 non-compromising criteria.
2. Sampling and Testing.
Once we believe we've found Perfect Press- worthy seeds, we order samples and run test batches for quality assurance.
3. Delivery.
Our 15-point checklist ensures that our seeds arrive at our pressing facility clean and undamaged.
4. Pressing.
Our proprietary presses are designed to extract every drop of oil out of every single seed without causing any damage to the fatty acid chains or other nutritional components found inside.
5. Bottling.
Miron glass guarantees that the precious oil is completely protected from air as well as UV light, which can damage fragile fatty acids.
6. More Testing.
Samples of every single batch we press are kept and tested for stability. Lab results have clearly shown that our unique methods lead to long shelf-lives without worry of oxidation.
The

Products Inc.
60-DAY MONEY BACK GUARANTEE
We want you to be 100% satisfied or you get your money back. No questions asked. It's really that simple.
We're giving you 60 days to test-drive our products and customer service to prove it!
Our customer loyalty team is here for you with all of the product knowledge and information you could ask for.