Select your package below
The more you buy, the more you save
ONE-TIME PURCHASE
1 Bottle$39/bottleRetail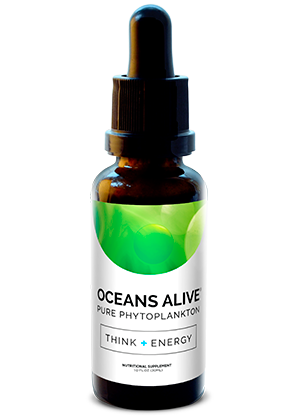 ADD TO CART
MOST POPULAR
3 Bottles$99 ($33/bottle)Save $18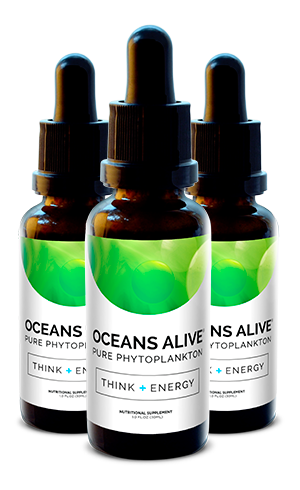 ADD TO CART
BEST VALUE
6 Bottles$189 ($31.50/bottle)Save $45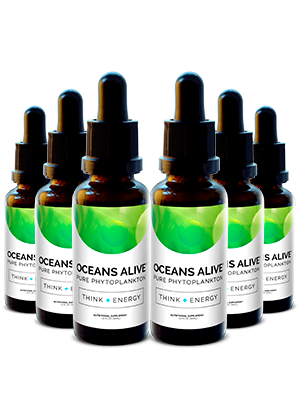 ADD TO CART

We accept checks and all major credit cards
THE ULTIMATE GREEN SUPERFOOD

Increases energy
Increases mental focus
Supports a healthy immune system
Supports good cardiovascular health
Promotes a healthy inflammation response
THIS IS THE FOOD THAT POWERS THE EARTH.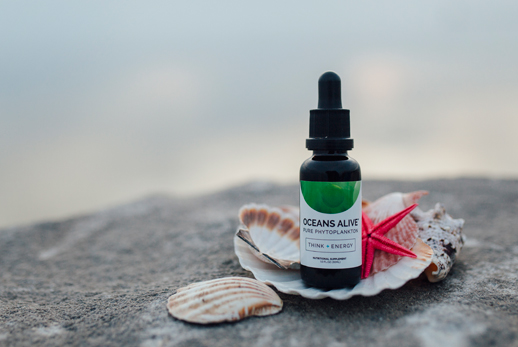 Oceans Alive is the purest, most potent marine phytoplankton supplement in the world. It's fresh, raw and PURE. We use a scientifically proven natural method of stabilization that does not require any heat, cold, freeze drying or any processing at all.
We simply add the freshly harvested marine phytoplankton to a pure, concentrated sea mineral solution that instantly stabilizes each cell in its perfect condition with freshness waiting to be consumed.
This provides an added bonus, as the ionic mineral solution has multiple health benefits in and of itself, such as greater oxygen delivery to your cells, support for healthy blood pH balance and nerve impulse regulation with magnesium.
Oceans Alive™ is made from a natural power food that feeds nearly all life on Earth in one way or another. Marine phytoplankton — a microscopic ocean plant — already supplies up to 90% of the air we breathe. As if that wasn't enough, it also has a unique ability to tap into your body's reserve of youthful energy. We get reports from nearly everyone who tries Oceans Alive that they experience an overwhelming feeling of untapped energy and focus the first time they use it.
It's naturally packed with nutrients that boost your health in a multitude of ways. Its natural antioxidant content reduces oxidative stress, it promotes healthy cellular growth and development, and it boosts cognitive function and mental focus.
We promise you'll be blown away by how quickly Oceans Alive™ goes to work and how powerfully it will improve your overall health.
Now It's Your Turn to Experience the Power of "Nature's Life-Force"...
Oceans Alive WILL put you back in control of your health and vitality like nothing else or you get a prompt, courteous, no-questions-asked 100% refund of your money, even if the bottles are empty. Simply give us the next 60 days.
Seize the moment. Face the future with confidence and a new sense of youth, vitality and joy!
You and your family deserve nothing less.
The

Products Inc.
60-DAY MONEY BACK GUARANTEE
We want you to be 100% satisfied or you get your money back. No questions asked. It's really that simple.
We're giving you 60 days to test-drive our products and customer service to prove it!
Our customer loyalty team is here for you with all of the product knowledge and information you could ask for.
If there is anything we can do, please call us at 1-866-271-7595 (Monday through Friday, 9am to 5pm EST) and we will ensure that you are taken care of immediately.